Acitretin Capsules, USP
(10 mg, 17.5 mg and 25 mg)
Sigmapharm's Pregnancy Prevention is Essential with Treatment (P.P.E.T.) program aims to educate women and healthcare providers about the serious risks associated with the use of acitretin.  Acitretin can cause severe birth defects during treatment and for up to 3 years after a patient stops taking acitretin.  The P.P.E.T. program is intended to help women avoid getting pregnant during this time.  Sigmapharm provides various program materials to help ensure safe use of acitretin.
For a copy of P.P.E.T. brochure and accompanying program materials, call 1-855-273-0150 or download the program materials below:



For a 24-hour, toll-free, automated birth control counseling line, please call:

 1-855-273-0150
---
Indications and Usage: Acitretin Capsules, USP are indicated for the treatment of severe psoriasis in adults.  Because of significant adverse effects associated with its use, Acitretin Capsules, USP should be prescribed only by those knowledgeable in the systemic use of retinoids.  In females of reproductive potential, Acitretin Capsules, USP should be reserved for non-pregnant patients who are unresponsive to other therapies or whose clinical condition contraindicates the use of other treatments (see boxed CONTRAINDICATIONS AND WARNINGS — Acitretin Capsules, USP can cause severe birth defects). 
Most patients experience relapse of psoriasis after discontinuing therapy.  Subsequent courses, when clinically indicated, have produced efficacy results similar to the initial course of therapy. 

If you think you've become pregnant while taking acitretin or within 3 years of stopping:
Stop taking Acitretin

Call your doctor to tell him/her you might be pregnant

Call Sigmapharm Laboratories, LLC at 1-855-273-0150

Or call FDA MedWatch at 1-800-332-1088 (1-800-FDA-1088)

You are encouraged to report negative side effects of prescription drugs to the FDA. Visit www.fda.gov/medwatch or call 

1-800-FDA-1088

.



---
CONTRAINDICATIONS AND WARNINGS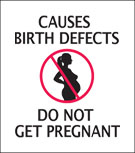 Acitretin must not be used by females who are pregnant or who may become pregnant during therapy or at any time for at least 3 years after discontinuation of treatment.  Acitretin also must not be used by females of reproductive potential who may not use 2 effective forms of contraception (birth control) simultaneously for at least 1 month before, during and for at least 3 years after treatment.  Two effective forms of contraception (birth control) are to be used simultaneously, even when 1 form is a hormonal contraceptive.  Patients should not self-medicate with St. John's wort because of a possible interaction with hormonal contraceptives.  Prescribers must obtain negative results for 2 pregnancy tests before initiating treatment with acitretin.  The first test is a screening test; the second is a confirmation test done during the first 5 days of the menstrual period immediately preceding therapy with acitretin.  For patients with amenorrhea, the second test should be done at least 11 days after the last act of unprotected sexual intercourse.  If the second pregnancy test is negative, initiation of treatment with acitretin should begin within 7 days of the specimen collection.  Acitretin Capsules, USP should be limited to a monthly supply.  Pregnancy testing throughout the treatment course should be monthly.  Females must sign a Patient Agreement/Informed Consent for Female Patients form about the risks of birth defects.  Acitretin is a metabolite of etretinate and major fetal abnormalities have been reported with both drugs.  Acitretin can interact with ethanol to form etretinate.  Therefore, females of reproductive potential must not ingest ethanol during treatment and for 2 months after cessation of treatment.  Before prescribing, please see complete pregnancy warning in the accompanying complete prescribing information.  Females who have undergone treatment with TEGISON (etretinate) must continue to follow the contraception requirements for TEGISON.
Less frequent, but potentially serious, adverse events include hepatotoxicity, pancreatitis, and pseudotumor cerebri (please see WARNINGS in complete prescribing information), as well as hyperostosis, alterations in lipids, possible cardiovascular effects, ophthalmologic effects, capillary leak syndrome, and exfoliative dermatitis/erythrodema.
For detailed information about Sigmapharm's Acitretin Capsules, USP
Please refer to full Prescription Information with Medication Guide including Boxed Warnings
 
This Site is intended for U.S residents only
P.P.E.T. is a trademark of Sigmapharm Laboratories, LLC.